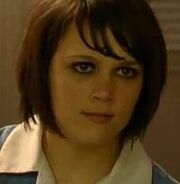 Sophie Ramsay
was a character in Neighbours who first appeared in 2009. She is the daughter of Jill Ramsay who was the illegitimate daughter of 
Max Ramsay
and Anne Robinson. She was played by
Kaiya Jones
.
Backstory
Edit
2009-2014
Edit
Father - Patrick Ramsay 
Mother - Jill Ramsay
Siblings - Kate Ramsay, Harry Ramsay
Grandfathers - Max Ramsay
Grandmothers - Anne Robinson
Great Grandfathers - Dan Ramsay, Bill Daniels
Great Grandmothers - Edna Ramsay, Helen Daniels
Great Great Grandfather - Jack Ramsay
Cousins - Daniel Robinson, Madison Robinson, Amy Robinson  Elle Robinson, Robert Robinson, Cameron Robinson, Andrew Robinson, Leo Tanaka, David Tanaka
Second Cousins - Shane Ramsay, Danny Ramsay, (adoptive) Charlene Robinson, Henry Ramsay  Moira Ramsay, Gemma Ramsay
Ad blocker interference detected!
Wikia is a free-to-use site that makes money from advertising. We have a modified experience for viewers using ad blockers

Wikia is not accessible if you've made further modifications. Remove the custom ad blocker rule(s) and the page will load as expected.