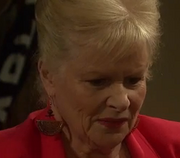 Sheila Canning
is a character in Neighbours who first appeared in
Episode 6394 - 3 May 2012
. She is the grandmother of
Kyle Canning
. Sheila is one of the new matriarchs of the show. She is played by
Colette Mann
.
Biography
Edit
Backstory
Edit
Sheila was born in September 1956 and met Frank Canning when she was 16 in 1972. They later married and had 2 children, Gary Canning and Naomi Canning. Frank died in 2009 of a heart attack after finding out his daughter Naomi had an affair with a married man. Sheila was left devastated after her husband's death.
Memorable info
Edit
Birthday: September 1956
Full Name: Sheila Canning
Spouse Frank Canning (??-2009)
Children Gary Canning, Jackie Canning, Naomi Canning
Grandchildren Kyle Canning, Xanthe Canning
Ad blocker interference detected!
Wikia is a free-to-use site that makes money from advertising. We have a modified experience for viewers using ad blockers

Wikia is not accessible if you've made further modifications. Remove the custom ad blocker rule(s) and the page will load as expected.