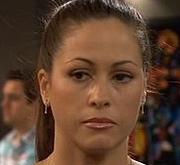 Sarah Beaumont
is a character in Neighbours who first appeared in
Episode 2708 - 25 September 1996
and left in 1999 only to return in 2005 and last appeared in
Episode 6590 - 1 Mar 2013
. She returned in April 2016, suffering from cancer and departed again in
Episode 7358 - 4 May 2016
. Sarah was played by
Nicola Charles
.
Biography
Edit
Backstory
Edit
Sarah Beaumont was born in about 1970 in Tasmania to Bess who later married and took the surname O'Brien. Sarah's father had the surname Beaumont. Sarah became a model and used her fathers surname as her stage name.
1996-1999
Edit
Sarah Beaumont arrived in 1996. She applied for a job at Danni Stark's clothes shop. Her old flame Lord Steven Harrow arrives. He is again rejected by Sarah. At the same time, Toadfish Rebecchi (Jarod Rebecchi) takes a shine to Sarah, who is a number of years older than he is. He is 17 and she is about 26. Toadie awards her with a gesture and she kisses him. He is stunned and besotted. Lord Harrow upsets Sarah and Toadie witnesses it, he menaces Lord Harrow, saying he has upset a friend of his. Sarah berates Toadie for saying they are a couple and rejects him but they remain friends.
Sarah and the local doctor Karl Kennedy become friends. He starts to ply her with gifts. Local male busybody Harold Bishop starts spreading rumours that Karl and Sarah are having an affair. One time Sarah has a cancer scare and Karl takes photos of her back but during this, they are seen and the wrong idea is given. Sarah and Karl do start an affair.
Memorable info
Edit
Birthday: Unknown
Full Name: Sarah Beaumont (Nee Shakira O'Brien)
Mother - Bess O'Brien
Siblings - Catherine O'Brien
Spouse - Peter Hannay - (1999-2013;separated)
Children - Antigone Hannay, Angus Beaumont-Hannay
See also
Edit
Ad blocker interference detected!
Wikia is a free-to-use site that makes money from advertising. We have a modified experience for viewers using ad blockers

Wikia is not accessible if you've made further modifications. Remove the custom ad blocker rule(s) and the page will load as expected.