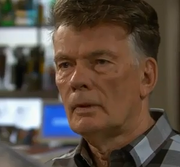 Russell Brennan
was a character in Neighbours who is the father of
Mark Brennan
,
Aaron Brennan
and
Tyler Brennan
. He used to abuse Tyler when he was a child. Russell turned up in
Erinsborough
in July 2015 and left in September 2015. He was played by
Russell Kiefel
.
Biography
Edit
Backstory
Edit
Russell Brennan was born in about 1955. He started as a mechanic in about 1974. He married Fay in about 1980 and they went on to have 2 biological sons, Mark Brennan in 1981, Aaron Brennan in 1984. Tyler Brennan was born in 1991 but after an extra marital affair Fay had with Hamish Roche. Russell and Fay had a daughter Chloe.
Russell Brennan arrived in Erinsborough in 2015 to see his sons. He was met with some chagrin. Russell started dating Sheila Canning briefly. It was revealed that Russell had abused Tyler as a kid. During a row, Tyler hit Russell. When the truth outed, Russell was asked to go back to Port Lincoln by his sons. He wanted Sheila to go with him but she turned him down. Russell then left Erinsborough alone and never returned.
In August 2017, Russell suffered a heart attack and was admitted to hospital. He seemed to be making a recovery but then died. His age was not stated explicitly by Fay or his children but he was about 60-65 years of age. In November, it is discovered that Russell may have been murdered by a potassium overdose by Louise McLeod and/or Hamish Roche after CCTV footage from Russell's hospital at the time of his death proved that they were there on the night he died and stole his phone, will and a playing card.
Memorable info
Edit
Born: About 1955
Died: 15 August 2017
Spouse Fay Brennan (c1980-2017)
Children Mark Brennan (1981), Aaron Brennan, Chloe Brennan
Adoptive Children Tyler Brennan (c1992)
Appearances
Edit
2015
See also
Edit