Rosemary Daniels
was a character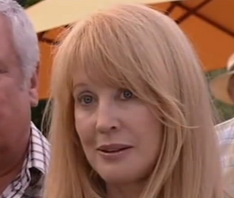 in Neighbours spordically from 1986 to 2010. She first appeared in
Episode 194 - 20 February 1986
and last appeared in
Episode 5995 - 20 Aug 2010
. She is the adoptive daughter of
Helen Daniels
. Rosemary is played by
Joy Chambers
.
Biography
Edit
Backstory
Edit
Rosemary Ambrose was born in about 1945 in Australia. Her mother Heather Ambrose gave her up after she was born as she was unmarried. In the late 1940's Bill Daniels and Helen Daniels, realising they could not have any more natural children after Anne Daniels (born 1940) they adopted Rosemary.
Rosemary emigrated to New York, USA and set up The Daniels Corporation.
1986-2010
Edit
In February 1986, Rosemary Daniels arrived in Erinsborough to visit her adoptive mother Anne. Paul Robinson did not welcome her return. He thought she looked down on everyone. Rosemary asked Helen to run the Australian branch of The Daniels Corporation.
Memorable info
Edit
Birthday: Unknown
Mother Heather Ambrose
Adoptive Father Bill Daniels
Adoptive Mother Helen Daniels
Siblings Anne Robinson (adoptive)
Appearances
Edit
1986
1987
1989
1990
1991
1993
1994 
1998 
2010 
Ad blocker interference detected!
Wikia is a free-to-use site that makes money from advertising. We have a modified experience for viewers using ad blockers

Wikia is not accessible if you've made further modifications. Remove the custom ad blocker rule(s) and the page will load as expected.