Paul Keane is an Australia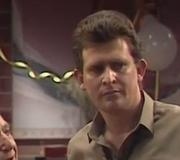 n actor who played
Des Clarke
from 1985 to 1990 and again in 2015. In November 2014, it was announced Paul would return to Neighbours in 2015 as part of the shows 30th anniversary.
Pre Neighbours career
Edit
Neighbours
Edit
Paul Keane auditioned for the role of Des Clarke in late 1984 and got the role. He stayed in Neighbours as the cheery but gullible family man Des for the next 6 years. In mid 1990 Paul left Neighbours and quit acting. He had developed a drug addiction due to the pressure of fame.
After Neighbours
Edit
After quitting Neighbours, and acting altogether, Paul got work as a barman.
Brief return to Neighbours in 2015
Edit