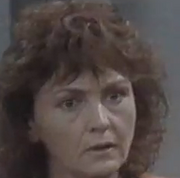 Pamela "Pam" Willis
was a character in Neighbours from
Episode 1261 - 6 August 1990
to
Episode 2239 - 15 September 1994
followed by brief returns in 1996 and 2014, returning in
Episode 6876 - 5 May 2014
and departing again in 
Episode 6880 - 9 May 2014
. She returned again in
Episode 7345 - 15 April 2016
for Doug's funeral. She was the wife of
Doug Willis
and mother to their 4 children
Adam Willis
,
Gaby Willis
,
Brad Willis
and
Cody Willis
. One of Pam's major storylines was being accused of murdering an elderly man in 1992. Pam was played by
Sue Jones
.
Biography
Edit
Backstory
Edit
Pam Beresford was born in about 1944 in Australia to Seamus Beresford, an Irish immigrant and his wife Moina. In the mid 1960s Pam met Doug Willis and they married in 1967. They had 4 children, Gaby Willis, Adam Willis, Brad Willis and Cody Willis. Another child, John, born inbetween Adam and Brad had died as a baby.
1990-1995
Edit
In 1990 Pam arrived in Erinsborough to join her husband Doug Willis and their children. They soon settled in at No 28 Ramsay Street.
After Cody was shot, Pam returned to Erinsborough. Cody was making a recovery but had a relapse and died. Pam had her body taken back to Darwin for burial.
Pam returned to Erinsborough in 2014,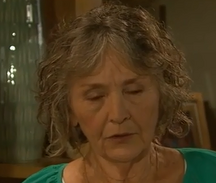 shortly after her hsuband
Doug Willis
returned to visit his son
Brad Willis
and grandchildren
Imogen Willis
and
Joshua Willis
. Pam thanked Karl Kennedy for what he did for Cody 18 years previously. A couple of days later Pam took Doug back home to Darwin.
Memorable info
Edit
Birthday: Unknown, about 1944
Full Name: Pamela Willis
Father Seamus Beresford
Mother Moina Beresford
Spouse Doug Willis (1967-)
Children Adam Willis, John Willis (deceased), Gaby Willis, Brad Willis, Cody Willis
Grandchildren Imogen Willis, Joshua Willis, Piper Willis
Great Grandchildren - Matilda Turner, Gabriel Smith
Ad blocker interference detected!
Wikia is a free-to-use site that makes money from advertising. We have a modified experience for viewers using ad blockers

Wikia is not accessible if you've made further modifications. Remove the custom ad blocker rule(s) and the page will load as expected.