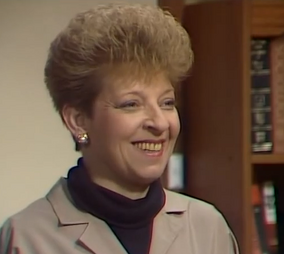 Myra De Groot was an actress who played
Eileen Clarke
from 1985 to 1988. She died shortly after she filmed her final scenes as the busybody mother of
Des Clarke
.
Pre Neighbours career
Edit
Myra De Groot was born on the 4th July 1936 in Westminster, London, England. She started acting in the 1950s and moved to the United States in about 1958. She worked in TV in America in the 1960s, appearing on TV series including Bewitched, The Monkees and Here Come The Brides. She performed at the noted New York cabaret "Upstairs at The Downstairs" in Ben Bagley's last review (Seven Come Eleven) in 1962 with Hal Buckley, Nancy Preiser and Cy Young.
She moved to New Zealand and became a resident actress with the joined the newly created professional theatre in Auckland, The Mercury Theatre in the early seventies and performed there in plays and musicals before moving to Australia.
Neighbours
Edit
Myra de Groot started filming Neighbours in early 1985, and her gossipy character Eileen Clarke first appeared in Episode 21 - 15 April 1985. Myra originally only filmed a few episodes but her character proved so popular that Myra was aksed to return to the show. Elieen returned in Episode 105 - 9 August 1985. Myra returned again in 1986 as Eileen and again in 1987 and 1988. Due to her health problems, Myra filmed her last scenes in early 1988, and those scenes aired at Eileen's daughter in law Daphne Clarke's funeral in Episode 691 - 28 March 1988.
Death 1988
Edit
In March 1988 Myra was taken to hospital after her cancer had spread. She was too unwell to return to filming Neighbours and died on the 4th April 1988 aged 51. Her character Eileen was said to have moved to England.