Lauren Turner (nee Carpenter)
was a character in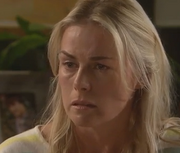 Neighbours who originally appeared from 
Episode 1852 - 16 February 1993
to
Episode 2098 - 2 March 1994
. It was announced that she would be returning in 2013, almost 20 years after she last appeared. She is the daughter of
Lou Carpenter
. She was originally played by 
Sarah Vandenbergh
but from 2013 to 2017 was played by
Kate Kendall
. Lauren departed in
Episode 7575 - 7 April 2017
but later returned for a guest stint from
Episode 7614 - 1 June 2017
to
Episode 7618 - 7 June 2017
.
Backstory
Edit
Lauren Carpenter was born in April 1973 the daughter of Lou Carpenter and his wife Kathy Carpenter.
1993-1994
Edit
Lauren turned up in February 1993 when her father Lou moved back to Ramsay Street. She had a relationship with Brad Willis in October 1993, they had first met when he was surfing and she was riding a horse. Lauren had rebellious tendencies. She was involved in a religious cult. Brad wed Beth Brennan in late 1993. and they left Erinsborough.
In March 1994, Lauren moved to Queensland. She was pregnant at the time with Brad's child.
1994-2013 - Time away from Erinsborough
Edit
Lauren left the baby with her mother Kathy Carpenter and Kathy had Lauren's daughter adopted, after telling Lauren that her daughter was dead. Paige was adopted by John Smith and Mary Smith. Paige had an adoptive brother Ethan Smith. Lauren met policeman Matt Turner as soon as she gave up Paige and she was soon pregnant. She married Matt. In February 1995, a baby boy Mason Turner was born. Lauren and Matt had 2 more children, Amber Turner in 1996 and Bailey Turner in 1997.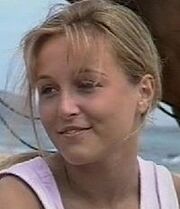 In 2013, Lauren and Matt Turner moved to Ramsay Street, where Lauren had lived 19 years earlier. Lauren told
Lucy Robinson
that when she left Erinsborough in March 1994, she was pregnant with Brad Willis' child.
Memorable info
Edit
Birthday: 16th April 1973
Full Name: Lauren Turner
Father Lou Carpenter
Mother Kathy Carpenter
Siblings Guy Carpenter, Ling Mai Chan (half, same father)
Grandfathers Arthur Carpenter
Spouse Matt Turner (1995-2015), Brad Willis (2016-)
Children Paige Smith (1994), Mason Turner (1995), Amber Turner (1996), Bailey Turner (1997)
Uncles/Aunts Brenda Riley
Grandchildren Matilda Turner, Gabriel Smith
Lauren Turner - List of appearances
Ad blocker interference detected!
Wikia is a free-to-use site that makes money from advertising. We have a modified experience for viewers using ad blockers

Wikia is not accessible if you've made further modifications. Remove the custom ad blocker rule(s) and the page will load as expected.