Kenny Larkin
was a minor character in N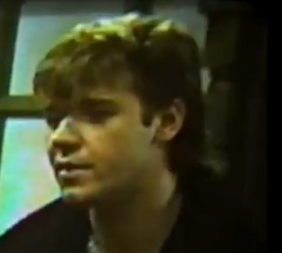 eighbours, who appeared in 4 episodes in 1987. He was the ex convict friend of 
Henry Ramsay
and was played by world famous actor
Russell Crowe
before he hit the American movie market.
Biography
Edit
Backstory
Edit
Kenny Larkin met Henry Mitchell while they were both in prison in 1986. Kenny had a sister called BB.
Kenny turned up in 1987 and comes to the local pub The Waterhole at Lassiters, where Madge Ramsay and Henry work. Madge's boss, Paul Robinson accuses her of theft after Henry pays for a round of drink with a $50 bill and Kenny claims to have paid for the second round with another $50 bill. Madge checks the till and finds only one $50 note, Henry's and Kenny proves he has given her $50 by reciting the last three digits on the note. Paul fires Madge and Henry accuses them of running a scam. Henry becomes determined to prove his and his mother's innocence and tracks down Kenny's sister B.B. who reveals that Kenny pulled cash scams on a regular basis. They tell Paul who reinstates Madge and Henry. When Kenny begins informing Henry's customers about his criminal past in revenge, the two men fight and Paul Robinson bars Kenny from Lassisters permanently. Kenny then leaves the area never to be seen again.
Memorable info
Edit
Birthday: 1964
Full Name: Kenny Larkin
Siblings BB Larkin
Appearances
Edit
1987