Karl Kennedy
[1]
is a long running character in Neig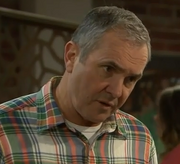 hbours, first appearing in
Episode 2242 - 20 September 1994
. He is the local doctor. He is the head of the Kennedy clan and is a local pillar of the community. Since the permanent exit of
Lou Carpenter
in 2016, Karl has become the longest serving continuous male character. He is played by
Alan Fletcher
.
Backstory
Edit
Karl Kennedy was born on the 23rd July 1955 to Molly Kennedy and Ron Davies-Smythe, who was a friend of Tom Kennedy, Molly's husband. Tom was unable to concieve so Ronald agreed to be a donor. Tom bought Karl up as his own child. Karl Kennedy met Susan Smith and they married in 1973. They had 3 children, Malcolm Kennedy in 1994, Libby Kennedy in 1977 and Billy Kennedy in 1980. Karl was a doctor.
Karl Kennedy and his wife Susan and their children, Mal, Libby and Billy moved into No 28 Ramsay Street in September 1994. Karl set up his medical practise at The Lassiters Complex. In 1996, Karl was giving medical advice to a young boy whose father disagreed with it and said to Karl he would be practising medicine on himself. Karl's surgery later blew up.
In 1997, Karl and Susan's marriage hit the rocks when he started seeing Sarah Beaumont. One time Susan suspected he was having an affair, as well as Harold Bishop. When Karl was taking photos of Sarah's back in the surgery, seeing if she had a cancerous mole, Harold walked in, unannounced and got the wrong idea.
Memorable info
Edit
Birthday: 23rd July 1955
Full Name: Karl Kennedy
Father Ronald Davies-Smythe
Mother Molly Kennedy
Adoptive father Tom Kennedy
Spouse Susan Smith (1978-2004, 2007-)
Children Malcolm Kennedy (1977), Libby Kennedy (1977 or 1978), Billy Kennedy (1980), Holly Hoyland (2007)