Joshua "Josh" Douglas Willis
was a character in Neighbou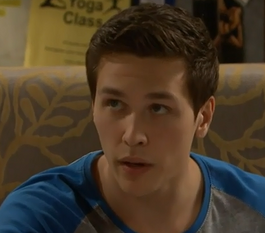 rs who first appeared in
Episode 6646 - 20 May 2013
and died in 
Episode 7337 - 5 April 2016
, making his last appearance (in footage only) in
Episode 7353 - 27 April 2016
. He is the son of
Brad Willis
and
Terese Willis
. He dated
Amber Turner
but she left him for
Daniel Robinson
. Josh died in an explosion at
The Lassiters Complex
in April 2016. Josh was played by
Harley Bonner
, son of another Neighbours actress
Carla Bonner
, who plays
Stephanie Scully
.
Biography
Edit
Backstory
Edit
Joshua Douglas Willis was born in May 1996, alongside his twin sister Imogen Willis, to Brad Willis and Terese Willis. He was given the middle name of Douglas after his grandfather Doug Willis.
2013- 2016
Edit
Josh Willis and his family moved into Ramsay Street in 2013, his fathers old street of residence. Josh was originally a tearaway but did calm dow a bit. He graduated from Erinsborough High School. He began dating Amber Turner but when Daniel Robinson arrived in March 2014, he made advances towards Amber. Amber later left Josh for Daniel. Josh started drinking and even punched Chris Pappas. Chris was hospitalised. Josh was charged for it and given 200 hours of community service.
Memorable info
Edit
Birthday: May 1996
Death Date: 4 April 2016 (aged 19)
Full Name: Joshua Douglas Willis
Father Brad Willis
Mother Terese Willis
Siblings Paige Novak (half, same father), Ned Willis (half, same father), Imogen Willis, Piper Willis (full)
Grandfathers Doug Willis (deceased 4 April 2016)
Grandmothers Pam Willis
Great grandfathers Bert Willis, Seamus Beresford
Great grandmothers Moina Beresford
Great, great grandfathers Zachary Willis
Uncles/Aunts Adam Willis, John Willis (deceased) Gaby Willis, Cody Willis, Nick Petrides
Children Matilda Turner (2015)
Nephew - Gabriel Smith
Ad blocker interference detected!
Wikia is a free-to-use site that makes money from advertising. We have a modified experience for viewers using ad blockers

Wikia is not accessible if you've made further modifications. Remove the custom ad blocker rule(s) and the page will load as expected.