Jill Ramsay was a character in N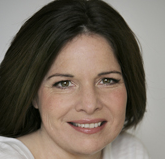 eighbours in 2009. She was the secret lovechild of
Max Ramsay
and
Anne Robinson
.
Biography
Edit
Backstory
Edit
Father Max Ramsay
Mother Anne Robinson
Siblings Shane Ramsay (paternal half sibling) Danny Ramsay (adopted paternal half sibling)  Paul Robinson, Julie Martin, Scott Robinson, Lucy Robinson (maternal half siblings)
Grandfathers Dan Ramsay, Bill Daniels
Grandmothers Edna Ramsay, Helen Daniels
Great Grandfather - Jack Ramsay
Great Grandmother - Gloria Simpson
Children Kate Ramsay, Sophie Ramsay, Harry Ramsay
Aunt - Madge Bishop, Rosemary Daniels (adopted)
Uncle - Tom Ramsay
Cousins - Henry Ramsay, Charlene Robinson, Moira Ramsay,  Gemma Ramsay
Second Cousins - Daniel Robinson, Madison Robinson, Amy Robinson, Cameron Robinson, Elle Robinson, Robert Robinson, Andrew Robinson
Third Cousin - Jimmy Williams
Great Aunts - Laura Dennison, Gwen Simpson, Maud Ramsay
Second Cousin - Nikki Dennison
Appearances
Edit
2009 
Ad blocker interference detected!
Wikia is a free-to-use site that makes money from advertising. We have a modified experience for viewers using ad blockers

Wikia is not accessible if you've made further modifications. Remove the custom ad blocker rule(s) and the page will load as expected.