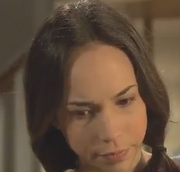 Imogen Willis
was a character in Neighbours who first appeared in
Episode 6646 - 20 May 2013
. She is the daughter of
Brad Willis
and
Terese Willis
. Imogen is the sister of
Joshua Willis
and half sister of
Paige Smith
. Imogen married
Daniel Robinson
in April 2016 and they left 
Erinsborough
in
Episode 7352 - 26 April 2016
. Imogen was played by
Ariel Kaplan
.
Biography
Edit
Backstory
Edit
Imogen Willis was born on the 21st May 1996 to Brad and Terese Willis. Imogen had a twin brother Joshua Willis. Imogen grew up in Perth.
In May 2013, the Willis family moved to No 22 Ramsay Street in Brad's old street. Imogen was 17 at the time. She enrolled at Erinsborough High School and became the school captain. Imogen was best friends with Amber Turner, daughter of Lauren Turner, one time girlfriend of Imogen's dad.
In March 2014, Daniel Robinson, a man also with family connections to Ramsay Street arrived. He took a shine to Amber but became friendly with Imogen. Daniel and Imogen had an on off relationship, they once even got stuck in a well when they went to find treasure and the ladder collapsed.
Memorable info
Edit
Birthday: May 1996
Full Name: Imogen Willis
Father Brad Willis
Mother Terese Willis
Siblings Paige Novak (half, same father) Ned Willis (Half, same father), Joshua Willis, Piper Willis (full)
Grandfathers Doug Willis
Grandmothers Pam Willis
Great grandfathers Bert Willis, Seamus Beresford
Great grandmothers Moina Beresford
Great, great grandfathers Zachary Willis
Uncles/Aunts Adam Willis, Gaby Willis, Brad Willis, Cody Willis
Spouse - Daniel Robinson (26 April 2016-present)
Ad blocker interference detected!
Wikia is a free-to-use site that makes money from advertising. We have a modified experience for viewers using ad blockers

Wikia is not accessible if you've made further modifications. Remove the custom ad blocker rule(s) and the page will load as expected.