Hilary Robinson
was a character in Nei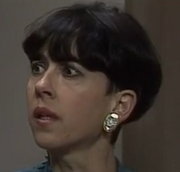 ghburs who first appeared in
Episode 519 - 25 June 1987
. She returned full time in 1988, leaving in
Episode 1148 - 28 February 1990
. She was seen again in 
Episode 4773 - 27 Jul 2005
for
Annalise Hartman
's documentary where she tracked down former
Ramsay Street
residents. She returned again in February 2015, left in March 2015 and made another appearance in November 2015 and in 2016. Hilary was the cousin of
Jim Robinson
. Hilary was played by
Anne Scott-Pendlebury
.
Biography
Edit
Backstory
Edit
Hilary Robinson was born on the 20th April 1951 to Mr Robinson and Mrs Robinson. Mr Robinson was the son of Sam Robinson, grandfather of Jim Robinson. Hilary's cousin Jim was 10 years older than her. Hilary had a son Matt Robinson in 1972.
1987-1990
Edit
Hilary arrives in Ramsay Street in July 1987 to see Scott Robinson marry Charlene Mitchell. She came back again in February 1988 to see Jim marry Beverley Marshall.
Hillary Robins
on is one of the guests at a press confrence that her first cousin once removed Paul Robinson is holding much too Paul's shock and dismay. Hilary is now staying at the Erinsbrough Retiment home where she has been for the past six months. In May 2015, Hilary helped Paul track down his daughter Amy Robinson, her first cousin twice removed.
Memorable info
Edit
Birthday: 10 April 1951
Full Name: Hilary Robinson
Father Mr Robinson
Grandfathers Sam Robinson
Children Matt Robinson (1972)
Uncles/Aunts James Robinson
First cousins Jim Robinson
First cousins once removed Paul Robinson, Scott Robinson, Glen Donnelly, Lucy Robinson
First cousins twice removed Daniel Robinson, Madison Robinson, Robert Robinson, Elle Robinson, Andrew Robinson, Cameron Robinson, Amy Robinson
Ad blocker interference detected!
Wikia is a free-to-use site that makes money from advertising. We have a modified experience for viewers using ad blockers

Wikia is not accessible if you've made further modifications. Remove the custom ad blocker rule(s) and the page will load as expected.