Henry Ramsay (Ne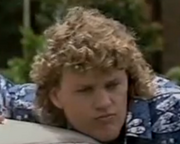 Mitchell) was a character in Neighbours from
Episode 429 - 19 February 1987
to
Episode 1099 - 23 November 1989
. He was the son of
Madge Bishop
and
Fred Mitchell
and older brother to
Charlene Robinson
. Henry was played by
Craig McLachlan
.
Biography
Edit
Backstory
Edit
Henry Mitchell was born in 1966 to Fred Mitchell and Madge Mitchell (nee Ramsay). Henry was born in Brisbane, Queensland but his mother hailed from Erinsborough in Melbourne, Victoria. He had a sister Charlene Mitchell born a few years after him. In the 1980s Henry got into trouble and ended up in prison. While there he met Kenny Larkin.
1987-1989
Edit
After being released from prison in February 1987, Henry turned up at No 24 Ramsay Street to see his mother Madge Ramsay and sister Charlene Mitchell. He was met with disdain from his cousin Shane Ramsay. Henry moved to Erinsborough permanently and formed a friendship with Mike Young.
Memorable info
Edit
Birthday: 1966
Full Name: Henry Ramsay (Ne Mitchell)
Father Fred Mitchell
Mother Madge Bishop
Siblings Charlene Robinson, Sam Cole (paternal half-sibling)
Grandfathers Dan Ramsay
Grandmothers Edna Ramsay
Great grandfathers Jack Ramsay
Spouse Bronwyn Davies (1990-)
Children
Uncles/Aunts Max Ramsay, Tom Ramsay, Maria Ramsay, Doreen Ramsay
First cousins Shane Ramsay, Jill Ramsay, Gemma Ramsay, Moira Ramsay
See also
Edit
Ad blocker interference detected!
Wikia is a free-to-use site that makes money from advertising. We have a modified experience for viewers using ad blockers

Wikia is not accessible if you've made further modifications. Remove the custom ad blocker rule(s) and the page will load as expected.