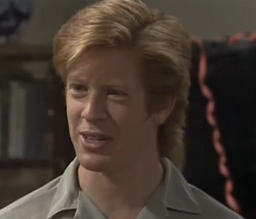 Geoff Paine
is an Australian actor who plays the eccentric loveable doctor
Clive Gibbons
. He originally played him from 1986 to 1987 and again in 1989, and 2017, the latter on a recurring basis.
Pre Neighbours career
Edit
Geoff Paine was born on the 8th August 1964 or 1965. He was at acting school. In late 1985 he auditioned for the part of Clive Gibbons in Neighbours and got the role.
Neighbours 1986-1987, 1989
Edit
Geoff Paine's first scenes as Clive aired on the 21st January 1986. Geoff played Clive Gibbons throughout 1986. He left the role in late 1986 and his final episode aired in February 1987.
Geoff did return to Neighbours for a while in 1989, a six week stint. This was because a spin off was planned but the spin off never happened in the end. Geoff was written out of the show again.
After Neighbours
Edit
Geoff had a successful TV career after Neighbours, appearing in shows such as Blue Heelers and A Country Practice.
Geoff once said in a 2003 interview that he has no desire to return to Neighbours. However he changed his mind when he agreed to reprise his role in late 2016.
He now runs acting classes as well as writing plays, along with his guest appearances in Neighbours.
Return to Neighbours 2017-
Edit
Geoff's return episode was Episode 7554 - 9 March 2017. Geoff has reprised his role as Clive on a recurring basis as Clive is now CEO of Erinsborough Hospital.
http://www.smh.com.au/entertainment/theatre/neighbours-star-who-hit-neighbour-looks-back-no-anger-20110925-1krsb.html
Ad blocker interference detected!
Wikia is a free-to-use site that makes money from advertising. We have a modified experience for viewers using ad blockers

Wikia is not accessible if you've made further modifications. Remove the custom ad blocker rule(s) and the page will load as expected.