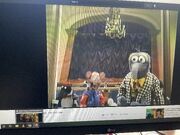 Gail Lewis (also Robinson)
was a character in Neighbours from
Episode 443 - 11 March 1987
to 
Episode 1053 - 20 September 1989
followed by short appearances in 2005, 2006 and 2007, last appearing in
Episode 5243 - 27 Jun 2007
. Gail was played by
Fiona Corke
.
Biography
Edit
Backstory
Edit
Gail was born in about 1960 to Ian Chadwick and Louise Hampstead. She was adopted by Rob Lewis and his wife Brenda Lewis.
1987-1989, 2005, 2006, 2007
Edit
In March 1987, Gail and her father Rob rented No 22 Ramsay Street. Gail started dating Paul Robinson. They were soon married but told they could not have their own children. Gail then went for IVF treatment and was soon pregnant. She gave birth to triplets Robert Robinson, Elle Robinson and Cameron Robinson in 1989.
Memorable info
Edit
Birthday: Unknown, about 1960
Full Name: Gail Robinson (Nee Lewis)
Father Ian Campbell
Mother Louise Hampston
Adoptive father Rob Lewis
Adoptive mother Brenda Lewis
Spouse Paul Robinson (1987-1989)
Children Cameron Robinson, Elle Robinson, Robert Robinson
Memorable info
Edit