Danny gets into trouble again Shane has to bail him out, Also it apears there is going to be some trouble at the Bank Julie and Des work at.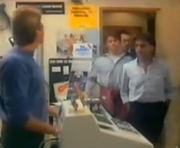 Main cast
Guest cast
Writer - Reg Watson
Series Producer - John Holmes
Director - Mark Joffe
Exec Producer - Reg Watson
Ad blocker interference detected!
Wikia is a free-to-use site that makes money from advertising. We have a modified experience for viewers using ad blockers

Wikia is not accessible if you've made further modifications. Remove the custom ad blocker rule(s) and the page will load as expected.