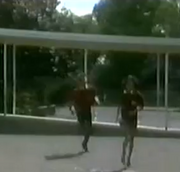 With the contents of the tape now in the open 
Marcia Taylor
talks about pressing charges against
Scott
. 
Kim
 runs away so the Taylor's go over the the Robinsons to look for her when 
Scott
finds out he also runs away. 
Main cast
Guest cast
Writer - Reg Watson
Series Producer - John Holmes
Director - Mark Joffe
Exec Producer - Reg Watson
Ad blocker interference detected!
Wikia is a free-to-use site that makes money from advertising. We have a modified experience for viewers using ad blockers

Wikia is not accessible if you've made further modifications. Remove the custom ad blocker rule(s) and the page will load as expected.