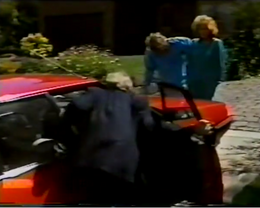 Poor
Eileen Clarke
says that underneath she was sure that
Malcolm Clarke
was going to dump her. 
Des Clarke
comforts her. He suggests she sees Dr
Beverley Marshall
as he is worried about her heart. Des takes her round to 
No 26 Ramsay Street
. Eileen says Des made her.
Henry Ramsay
takes his mother
Madge Mitchell
for another driving lesson, is very picky about her driving. But Madge almost runs
Harold Bishop
over when he comes to watch them. Madge says she will never be able to drive. She has to send her dress to the cleaners. She gets a $1000 bill for the damage to the fire hydrant. She says she will have to sell her car. Bev has given Eileen some tranquillisers. Henry later comments on Harold's waist at dinner that evening. The next day, Madge is interested in selling her car to
Barry Hawkins
. Harold has come to see Eileen to pay his regards. Madge's car has sold for $4000. She thinks she has been ripped off by $1000. Henry says they will have to cop it sweet.
Guest cast

Writer: John Upton
Series Producer: Marie Trevor
Director: Steve Mann
Executive Producer: Reg Watson