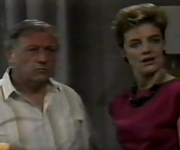 Gail Robinson
reads the letter from her late mother
Brenda Lewis
. She reads it to
Paul Robinson
. The letters says that Brenda and
Rob Lewis
could not have their own children and adopted her. Gail is shocked as she always assumed Rob and Brenda were her blood parents.
Mrs Mangel
gossips about
Eileen Clarke
remarrying her ex husband
Malcolm Clarke
. Gail summons her father Rob to see her. She says she found out, she found the letter. Rob says "Who says I am not your father?".
Guest cast

Writer: ???
Series Producer: Marie Trevor
Director: ???
Executive Producer: Reg Watson
Ad blocker interference detected!
Wikia is a free-to-use site that makes money from advertising. We have a modified experience for viewers using ad blockers

Wikia is not accessible if you've made further modifications. Remove the custom ad blocker rule(s) and the page will load as expected.