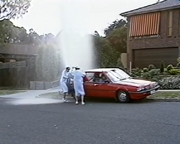 Eileen Clarke
is shocked at her marriage proposal by her ex husband
Malcolm Clarke
. She soon accepts. 
Des Clarke
is told that his parents are remarrying. 
Scott Robinson
and 
Elinora Romeo
discuss a potential wife for her son 
Tony Romeo
, a story that will make the
Erinsborough News
. 
Mrs Mangel
says the old customs are best when it comes to family regarding Mrs Romeo and her son. Elinora has her tea leaves read. Eileen says she is marrying Malcolm again. Mrs Mangel disapproves of her friend marrying him again. 
Paul Robinson
congratulates Des and plans a game of cards for this evening. Des says he will get the supplies.
Henry Ramsay
teaches his mother
Madge Mitchell
how to drive. Eileen passes by to say hello but Madge snaps at her. She cannot get it and Henry loses patience with her. Scott and Paul watch Madge try to drive. She drives over the water main, making it burst.
Mrs Mangel
and Eileen, walking past, are soaked.
Guest cast

Writer: ???
Series Producer: Marie Trevor
Director: Chris Shiel
Executive Producer: Reg Watson