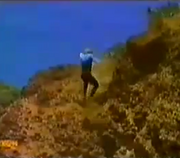 As
Helen Daniels
and
Charlene Robinson
are chatting at
No 24 Ramsay Street
,
Madge Ramsay
says that
Scott Robinson
may be missing while on his boat trip.
Eileen Clarke
and her ex husband
Malcolm Clarke
have dinner.
Jim Robinson
says he will go for a drive along the coast.
Mike Young
says he will come with him to help look for Scott.
Henry Ramsay
is still tired. They await news of Scott. Meanwhile, Scott is lying on the beach, motionless. Back at Ramsay Street, Scott's exam results are delivered. On the beach, Scott is awake now and is clambering out of the water onto the beach.
Harold Bishop
is in a foul mood at the cafe. Eileen asks Mike Young for news on Scott. She suggests he has some rest. She offers to make some snadwiches for him. Malcolm's legs feel better. Eileen is thinking of Scott. It brings back memories of how Eileen had to bring up
Des Clarke
without Malcolm after he left. Scott tries to climb up the cliff. He loses his grip and falls backwards. Eileen seems to be becoming attracted to her ex husband Malcolm. Mike goes to see
Jane Harris
at
The Daniels Corporation
to talk about Scott, and to arrange another helicopter. Jim and a rescuer see Scott laying unconscious on the beach. The rescuer radios for help. At No 24 Ramsay Street, Charlene answers the phone to say that Scott has been found. But she gets a bit dizzy and then collapses.
Guest cast

Writer: Ray Harding
Series Producer: Marie Trevor
Director: Steve Mann
Executive Producer: Reg Watson
On the day before this episode aired, the pilot episode of new TV soap opera Home And Away was shown, while the first regular episode was shown the day this episode aired, Home And Away being Neighbours biggest ever rival in Australian and overseas TV history and Neighbours would be swept off its feet by the newcomer.