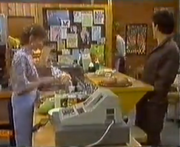 Guest cast

Writer: Ray Harding
Series Producer: Marie Trevor
Director: Steve Mann
Executive Producer: Reg Watson
On the day before this episode aired, the pilot episode of new TV soap opera Home And Away was shown, while the first regular episode was shown the day this episode aired, Home And Away being Neighbours biggest ever rival in Australian and overseas TV history and Neighbours would be swept off its feet by the newcomer.
Ad blocker interference detected!
Wikia is a free-to-use site that makes money from advertising. We have a modified experience for viewers using ad blockers

Wikia is not accessible if you've made further modifications. Remove the custom ad blocker rule(s) and the page will load as expected.