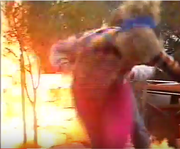 Guest cast

Writer - Ray Kolle
Series Producer - Philip East
Director - Brendan Maher
Executive Producer - Reg Watson
If you look very carefully you will see that when Scott is running away from the flames of the exploding caravan he is clearly being played by a stunt double. When Scott then lays down with his head to the ground, the stunt double is still playing him then a few seconds later it is back to Jason Donovan.
Ad blocker interference detected!
Wikia is a free-to-use site that makes money from advertising. We have a modified experience for viewers using ad blockers

Wikia is not accessible if you've made further modifications. Remove the custom ad blocker rule(s) and the page will load as expected.