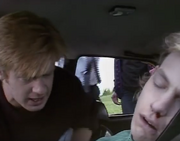 It is the aftermath of the car crash.
Paul Robinson
escapes with a few cuts and bruises as does
Mike Young
. But
Scott Robinson
is unconscious. As
Clive Gibbons
is a doctor, he attends the scene while waiting for the ambulance to arrive. Scott is rushed to
Erinsborough Hospital
. Clive and other surgeons help operate on Scott after he is found to have a collapsed lung. Paul blames Clive for being careless about letting baby
Sam Cole
's pushchair roll into the road with Sam in it. Paul tells one of the doctors "I do not want that part time ape operating on my brother". The doctor puts Paul in his place.
Guest cast
Writer: Lois Booton
Producer: Philip East
Director: Peter Andrikidis
Executive Producer: Reg Watson
Ad blocker interference detected!
Wikia is a free-to-use site that makes money from advertising. We have a modified experience for viewers using ad blockers

Wikia is not accessible if you've made further modifications. Remove the custom ad blocker rule(s) and the page will load as expected.