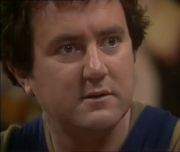 Max Ramsay
and
Maria Ramsay
have a talk. She asks him why he does not love
Danny Ramsay
as much as he does
Shane Ramsay
. Max says he has never felt close to Danny. He says that he has always suspected that Danny was not his as he was only born 9 months after him and Maria got back together. Max asks her and she says that Danny is not his son.
Guest cast

Writer: Christine McCourt (as Chris McCourt)
Series Producer: John Holmes
Director: Russell Webb
Executive Producer: Reg Watson
Ad blocker interference detected!
Wikia is a free-to-use site that makes money from advertising. We have a modified experience for viewers using ad blockers

Wikia is not accessible if you've made further modifications. Remove the custom ad blocker rule(s) and the page will load as expected.