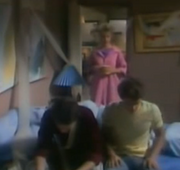 This was the Second episode of Neighbours ever of this smash hit TV show called Neighbours. with the wedding off,
Paul Robinson
calls the guests on
Des Clarke
's behalf. Meanwhile 
Daphne Lawrence
 comes back to find her watch and ends up cleaning up Des's house for him.
Shane Ramsay
takes an interest in Daphne and they decide to go on a date.        
Main cast
Guest cast

Writer - Reg Watson
Series Producer - John Holmes
Director - Mark Joffe
Exec Producer - Reg Watson
Ad blocker interference detected!
Wikia is a free-to-use site that makes money from advertising. We have a modified experience for viewers using ad blockers

Wikia is not accessible if you've made further modifications. Remove the custom ad blocker rule(s) and the page will load as expected.