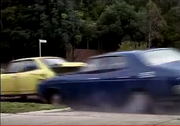 Des Clarke
is now married and
Daphne Clarke
is now Mrs Des Clarke, no more Daphne Lawrence.
Mike Young
,
Scott Robinson
and
Charlene Mitchell
, who did not attend the ceremony, come into
No 22 Ramsay Street
where Mike lives and Mike is challenegd by a surly 
Male Caterer
who is doing the catering. Mike explains that he lives here. Mike helps hismelf to a snadwich but the man says "Sir" abruptly, making Mike jump.
Danny Ramsay
attends the wedding reception but gets ready to leave Erinsborough soon after. Shane agrees to take
Jean Richards
to the airport but the car suffers a blow out and Shane crashes into a parked car. He is OK, just, but Jean is unconscious with blood coming from her left ear.
Guest cast

Writer: Lois Booton
Producer: Philip East
Director: Steve Mann
Executive Producer: Reg Watson
Ad blocker interference detected!
Wikia is a free-to-use site that makes money from advertising. We have a modified experience for viewers using ad blockers

Wikia is not accessible if you've made further modifications. Remove the custom ad blocker rule(s) and the page will load as expected.