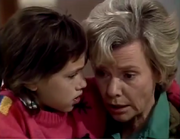 Billy
the dog has gone missing.
Lucy Robinson
finds him at his deceased owner
Mrs York
's house, lifeless. Billy has died.
Helen Daniels
explains that when people die they move on to another stage of their lives.
Fred Mitchell
says he is returning to
Coffs Harbour
and is not sure he will be back. He is already spending the money on the ring Madge gave him, which he said was to pay off his debts.
Mike Young
and
Scott Robinson
start hanging round with
Cassie Campbell
. She says she is a model. Cassie takes Mike to her flat.
Guest cast

Writer: Sally Webb
Series Producer: Philip East
Director: Andrew Friedman
Executive Producer: Reg Watson
Ad blocker interference detected!
Wikia is a free-to-use site that makes money from advertising. We have a modified experience for viewers using ad blockers

Wikia is not accessible if you've made further modifications. Remove the custom ad blocker rule(s) and the page will load as expected.