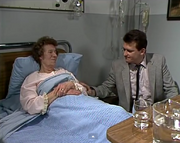 Mrs York
is taken to hospital after she has fainted. She is visited later by
Des Clarke
who advises her on selling the house. Des mentions this to
Daphne Lawrence
later on and
Mrs Mangel
accuses him of being a vulture, trying to get in before another bank tries to sort out her house.
Andrea Townsend
and
Jack Lassiter
plan to go on a 6 month trip to Europe. He leaves
Paul Robinson
in charge while he is away.
Shane Ramsay
is not best pleased.
Guest cast

Writer: Peter Connah
Producer: John Holmes
Director: Paul Moloney
Executive Producer: Reg Watson
Ad blocker interference detected!
Wikia is a free-to-use site that makes money from advertising. We have a modified experience for viewers using ad blockers

Wikia is not accessible if you've made further modifications. Remove the custom ad blocker rule(s) and the page will load as expected.