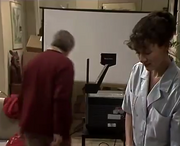 Andrea Townsend
does not want
Jack Lassiter
to sell 
The Lassiters Complex
to
Paul Robinson
. Jack says he makes the decisions and Andrea still has time to back out of marrying him if she does not like it. She then shuts up.
Jean Richards
gives a class at
No 22 Ramsay Street
.
Tom Ramsay
says how he took her out for dinner. Jean is not happy and Tom thinks she is giving him the brush off.
Helen Daniels
says she called in to see
Mrs York
and got no answer. Clive goes to call on her, he plans to break in, but the nosey
Mrs Mangel
tells him it is against the law. Clive finds Mrs York laying unconscious on the living room floor.
Guest cast

Writer: Nicholas Langton
Series Producer: John Holmes
Director: Paul Moloney
Executive Producer: Reg Watson