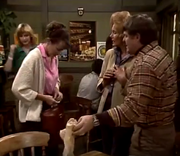 Tom Ramsay
wines and dines
Jean Richards
but she then has to hurry off somewhere, before having dessert. Tom is miffed, as last night she seemed so keen.
Clive Gibbons
has been given permission by
Jack Lassiter
to sell lingerie outside
Daphne's Coffee Shop
.
Mrs Mangel
says it is disgusting and reports him. A few minutes later,
a copper
turns up and says that he needs a license to sell things. He takes Clive to the station but lets him off with a warning.
Guest cast

Writer: Christine McCourt (as Chris McCourt)
Series Producer: John Holmes
Director: Paul Moloney
Executive Producer: Reg Watson
Ad blocker interference detected!
Wikia is a free-to-use site that makes money from advertising. We have a modified experience for viewers using ad blockers

Wikia is not accessible if you've made further modifications. Remove the custom ad blocker rule(s) and the page will load as expected.