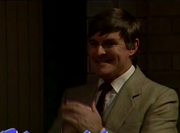 Tom Ramsay
and
Jean Richards
go out for a date. That night, he takes her back to
No 24 Ramsay Street
and she says she is happy to go out for lunch the following day. When she leaves, Tom says "You beauty" and thumps his fists together in excitement.
Mrs York
is getting a bit tired of being seen as a charity case.
Guest cast

Writer: Ray Harding
Series Producer: John Holmes
Director: Paul Moloney
Executive Producer: Reg Watson
Ad blocker interference detected!
Wikia is a free-to-use site that makes money from advertising. We have a modified experience for viewers using ad blockers

Wikia is not accessible if you've made further modifications. Remove the custom ad blocker rule(s) and the page will load as expected.