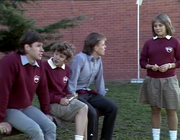 Zoe Davis
is staying at a secret location paid for by
Paul Robinson
so she can be alone and decide her future with
Jim Robinson
now she is pregnant. She then collapses in pain. Paul finds her and rushes her to
Erinsborough Hospital
. 
Mrs Mangel
is settling in well and already annoying her neighbours.
Debra Fleming
tries to break into a filing cabinet with a screwdriver but hears someone come and has to pretend she is not up to anything. Then
Daphne Lawrence
comes in to tell Debra that Zoe had an ectopic pregnancy and he took her to hospital. At Erinsborough Hospital, the doctor says Zoe may never have children again after the ectopic pregnancy. Daphne has to break this news to her. At 
Daphne's, Lassiters
,
Mike Young
and a schoolmate
Roger
have a fight after Roger mocks
Nikki Dennison
.
Scott Robinson
tries to calm Mike down and Roger says "Yeah nick off" and they start having a massive altercation outside the coffee shop.
Guest cast

Writer: Ginny Lowndes
Producer: John Holmes
Director: Richard Sarell
Executive Producer: Reg Watson