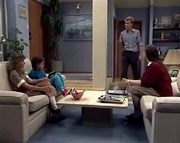 Tom Ramsay
tries to backtrack on his negative comments about adult education in front of teacher
Jean Richards
.
Nikki Dennison
is asked by
Charlene Mitchell
if she is dating
Grant Kenny
. Nikki says she should never have told
Sue Parker
as she is spreading it all around. Nikki says yes she is dating Grant. Devious
Debra Fleming
plans her scheme against
Paul Robinson
.
Des Clarke
tries to woo
Daphne Lawrence
but they are interrupted by
Zoe Davis
coming in, back from her time away. She has many suitcases with her.
Guest cast

Writer: Adrian Van Den Bok
Producer: John Holmes
Director: Chris Langman
Executive Producer: Reg Watson
Ad blocker interference detected!
Wikia is a free-to-use site that makes money from advertising. We have a modified experience for viewers using ad blockers

Wikia is not accessible if you've made further modifications. Remove the custom ad blocker rule(s) and the page will load as expected.