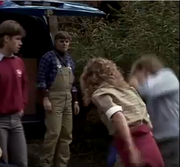 Madge Mitchell
is shocked at
Charlene Mitchell
's revelation.
Scott Robinson
and
Paul Robinson
have a chat and Paul says Scott needs to be more responsible. Scott hopes to apologise to Charlene for walking out on her when she said she was not her first boyfriend.
Debra Fleming
woos Paul later on and manipulates him. She then tells her father
Lewis Fleming
that she is working Paul.
Tom Ramsay
gets a phonecall from his brother 
Max Ramsay
in
Brisbane
to say that him and
Maria Ramsay
are back together and he has got a 2 month contract for a job in Brisbane. Scott tries to apologise to Charlene but she thumps him, and he falls to the ground.
Guest cast

Writer: Rick Maier
Producer: John Holmes
Director: Andrew Friedman
Executive Producer: Reg Watson
Ad blocker interference detected!
Wikia is a free-to-use site that makes money from advertising. We have a modified experience for viewers using ad blockers

Wikia is not accessible if you've made further modifications. Remove the custom ad blocker rule(s) and the page will load as expected.