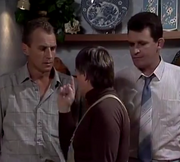 Paul Robinson
knows that
Scott Robinson
and
Charlene Mitchell
have gone to a room at
Lassiters Hotel
alone and Scott lied, saying he was going on his own to study for his exams. Pual races round there and sees Scott, and apprehends his brother, who gives Paul the key. Paul goes to the room and comforts a sobbing Charlene who said she has a boyfriend before Scott, and Scott had thought she was still a virgin.
Jim Robinson
also hears from
Mike Young
and
Nikki Dennison
that Scott went to a hotel room at Lassiters and took Charlene with him. Scott returns home and pleads his innocence to his dad Jim and
Madge Mitchell
. He says nothing happened, they just wanted to study. Scott scolds Mike and Nikki for opening their big mouths. Jim believes Scott that nothing happened.
Tom Ramsay
hears of this, visits 
No 26 Ramsay Street
as he wants Scott's blood but Jim tells him to get out. Tom says he will see Scott later on when he comes home. Charlene says to her mum hat she fell pregnant by her first boyfriend in
Brisbane
and had an abortion.
Guest cast

Writer: Philip Ryall
Producer: John Holmes
Director: Andrew Friedman
Executive Producer: Reg Watson