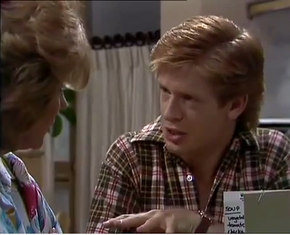 Charlene Mitchell
says to
Clive Gibbons
that she wants to go on the pill. Clive says he cannot issue a prescription as he is not practising at the moment. He advises that she goes to family planning. There are many kinds of pills and they all have different hormone levels.
Scott Robinson
is skimming stones at
Lassiters Lake
and is approached by Charlene. Clive talks to Madge and says she can be a bit forceful to her daughter. Clive says Charlene came to see him about something and he has to respect that confidence. Madge says she is her mother and anyone should share anything about Charlene with her. Clive sticks to his guns. Scott asks
Paul Robinson
for a key to a room at Lassiters, he says he is going to study. But
Nikki Dennison
, while covering for Scott says Scott and Charlene went to the library. This makes Paul suspicious. Charlene and Scott are ready to have sex in the hotel room but she admits she had a boyfriend before Scott. Scott thought he was her first boyfriend. Scott is not pleased and walks out of the room, leaving Charlene alone.
Guest cast

Writer: Christine McCourt
Producer: John Holmes
Director: Paul Moloney
Executive Producer: Reg Watson