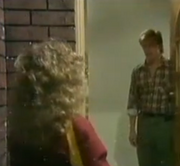 Charlene Mitchell
and
Scott Robinson
are getting closer. Scott wants a sexual relationship with her.
Nikki Dennison
reckons Scott is pushing Charlene too much. Scott says that she doesn't have to say yes.
Bradley Townsend
says to his mum 
Andrea Townsend
that while Scott and Charelene were babysitting him they were kissing and that Jim came to visit to see where
Zoe Davis
was and saw them and did nothing. Andrea says she will have a word with Jim. Sly Bradley smiles in triumph, knowing he is stirring again. Andrea has it out with Jim and Jim sees her out, saying he will pass the message on to Scott and Charlene. Charlene later asks
Clive Gibbons
for a prescription for the pill.
Guest cast

Writer: John Upton
Producer: John Holmes
Director: Paul Moloney
Executive Producer: Reg Watson