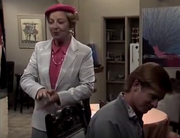 After the Sunday service,
Eileen Clarke
and
Clive Gibbons
decide to have a singing lesson, and when Eileen sings, her voice can be heard across the street.
Shane Ramsay
says her voice is like a dentists drill and goes to ask her to keep the noise down, it is Sunday afternoon.
Madge Mitchell
gets a shock when her husband
Fred Mitchell
turns up. Madge says she will get all her money back he took off her. "Every penny Fred", bellows Madge.
Guest cast

Writer: Penny Fraser
Producer: John Holmes
Director: Andrew Friedman
Executive Producer: Reg Watson