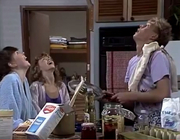 Shane Ramsay
,
Danny Ramsay
and
Madge Mitchell
are wondering where
Max Ramsay
is as he has been gone for about a day now. Madge gets a phonecall. It is Max. He is at the local airport. Madge then says "
Brisbane
" down the phone, presumabley Max said he was on his way there. When she gets off the phone Madge says that Max's wife
Maria Ramsay
is upset and wants Max to go and see her in Brisbane.
Scott Robinson
tosses a pancake and it gets stuck on the ceiling.
Jim Robinson
has invited
Lucy Robinson
alone for the weekend with
Zoe Davis
, much to the disgruntlement of Zoe, as Zoe knows Lucy does not like her.
Guest cast

Writer: Philip Ryall
Producer: John Holmes
Director: Andrew Friedman
Executive Producer: Reg Watson