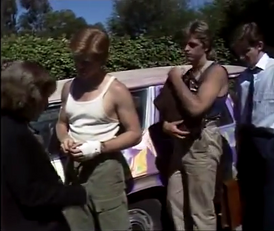 Nikki Dennison
goes to visit
Barbara Young
to ask her to sign a letter to help her son
Mike Young
secure a good job. Barbara says it is nothing to dow ith Nikki. Nikki says she is sorry she wasted her time.
Max Ramsay
is sure to win the pancake competition. While Mike is chatting to
Clive Gibbons
and
Shane Ramsay
, Mrs Young delivers the letter to Mike saying his father only signed it so they could leave them alone. Clive sarcastically says "Sorry if your sons future causes any inconvenience. Enjoy your peace and quiet Mrs Young".
Guest cast

Writer: John Upton
Series Producer: John Holmes
Director: Paul Moloney
Executive Producer: Reg Watson
Ad blocker interference detected!
Wikia is a free-to-use site that makes money from advertising. We have a modified experience for viewers using ad blockers

Wikia is not accessible if you've made further modifications. Remove the custom ad blocker rule(s) and the page will load as expected.