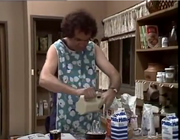 Max Ramsay
,
Jim Robinson
,
Des Clarke
and
Andrea Townsend
manage to stop
Gavin McKinley
kidnapping his son
Bradley Townsend
. Des, Andrea, Bradley and 
Eileen Clarke
then go into
No 28 Ramsay Street
. Andrea slips up and admits that Des is not Bradley's father. Gavin then leaves but Eileen offers him a proposition so that Des will get rid of Andrea and Bradley. They have a chat in
The Waterhole, Lassiters
about how Andrea is taking advantage of Des. Some of her neighbours see her and get suspicious but
Shane Ramsay
says she may have just been crying on his shoulder. Max Ramsay is sure to win the pancake competition. He reckons that
Helen Daniels
and
Madge Ramsay
have an advantage for starters as they are women. Max says Madge will soon be eating humble pancake.
Guest cast

Writer: Ysabelle Dean
Series Producer: John Holmes
Director: Paul Moloney
Executive Producer: Reg Watson