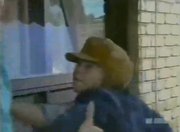 Scott Robinson
is walking through
Ramsay Street
when he sees someone trying to get in through a window at
No 24 Ramsay Street
. He goes to apprehend her but she punches him in the jaw.
Madge Mitchell
walks round the exterior walkway and sees it is her daughter Charlene. Scott is nursing a massive bruise.
Zoe Davis
tries to establish a good friendship with
Paul Robinson
but does not succeed.
Daphne
recieves some bad news when in the cafe. She tells Scott and
Mike Young
that her lease is not being renewed and developers want to do up the cafe building. She sees advice from
Des Clarke
.

Writer: Penny Fraser
Producer: John Holmes
Director: Mark Callan
Executive Producer: Reg Watson
First appearance of Kylie Minogue as Charlene Mitchell.
Ad blocker interference detected!
Wikia is a free-to-use site that makes money from advertising. We have a modified experience for viewers using ad blockers

Wikia is not accessible if you've made further modifications. Remove the custom ad blocker rule(s) and the page will load as expected.