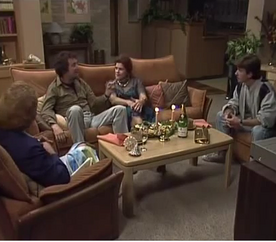 Max Ramsay
plans a night in with
Laura Dennison
. He wants to take her to a movie as well, his shout. He wants
No 24 Ramsay Street
to be just him and Laura for the evening. They keep getting interruptions.
Mike Young
's lovelife takes a turn for the worse when he broods over
Nikki Dennison
, thinking
Danny Ramsay
has been after her for ages.
Guest Stars

Writer: Cheredith Mok
Producer: John Holmes
Director: Max Varnel
Executive Producer: Reg Watson
Ad blocker interference detected!
Wikia is a free-to-use site that makes money from advertising. We have a modified experience for viewers using ad blockers

Wikia is not accessible if you've made further modifications. Remove the custom ad blocker rule(s) and the page will load as expected.