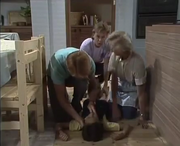 Jim Robinson
and
Zoe Davis
are stranded in the middle of nowhere. They decide the best thing to do is to walk to the nearest service station.
Scott Robinson
wants to go for a night out and asks if
Clive Gibbons
and
Mike Young
will come along.
Lucy Robinson
takes
Basil
out in the garden but comes in clutching her throat. She has a bee sting. Scott quickly fetches Dr Clive who performs a tracheotomy on Lucy. Lucy is then taken to hospital.
Helen Daniels
and
Paul Robinson
wonder where Jim has got to, Paul thinks he is too busy with his love life with Zoe Davis.
Guest Stars

Writer: Cheredith Mok
Producer: John Holmes
Director: Max Varnel
Executive Producer: Reg Watson
Ad blocker interference detected!
Wikia is a free-to-use site that makes money from advertising. We have a modified experience for viewers using ad blockers

Wikia is not accessible if you've made further modifications. Remove the custom ad blocker rule(s) and the page will load as expected.