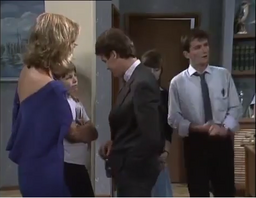 Scott Robinson
says he walked out of the exam as he could not hadle it.
Bradley Townsend
decapitates
Jim Robinson
's roses with a boomerang. Jim drags him to his mum
Andrea Townsend
. Later on Bradley is riding on the pavement at
Ramsay Street
and is told off by
Scott Robinson
and
Danny Ramsay
. Bradley gives them cheek so they life him up on his bike. Scott tells his father Jim that he walked out of the exam. He refuses Jim's help so Jim says Scott is on his own then.
Guest Stars

Writer: Reg Watson
Producer: John Holmes
Director: Andrew Friedman
Executive Producer: Reg Watson
Ad blocker interference detected!
Wikia is a free-to-use site that makes money from advertising. We have a modified experience for viewers using ad blockers

Wikia is not accessible if you've made further modifications. Remove the custom ad blocker rule(s) and the page will load as expected.