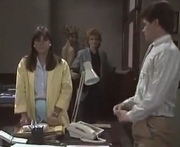 The Ramsay's are trying to make
Max Ramsay
diet.
Zoe Davis
hopes to be taken on as
Paul Robinson
's secretary. Max attends a building site where 
Shane Ramsay
is working at. "Diet ale. Where's me beer" says Max. Paul has taken on
Sue Wright
as his new secretary, disappointing Zoe.
Guest Stars

Writer: Helen Carmichael
Producer: John Holmes
Director: Max Varnel
Executive Producer: Reg Watson
Max: "Diet ale??!!! "Where's me beer!!"
Ad blocker interference detected!
Wikia is a free-to-use site that makes money from advertising. We have a modified experience for viewers using ad blockers

Wikia is not accessible if you've made further modifications. Remove the custom ad blocker rule(s) and the page will load as expected.