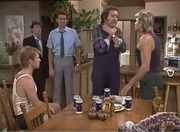 Shane Ramsay
is locked in the wine cellar by
Beth Travers
. 
Clive Gibbons
asks Beth where Shane is, and she says he went home early. She soon lets Shane out of the cupboard.
Rosemary Daniels
shows
Paul Robinson
the new office of
The Daniels Corporation
where he will be based.
Danny Ramsay
manages to lose all of
Max Ramsay
's money he wanted them to place on a horse. Max thinks he has won, and says he is loaded, and could put a sauna in the house but Danny says he placed bets on the wrong horse. The man at the betting shop made a mistake with the computer and got the horses names mixed up. Max says "You lost all me money. All me money. You morons, you drongos". Shane tries to calm Max down but Max starts gasping for breath due to getting excited and collapsed in agony, and Shane has to catch him.
Guest Stars

Writer: C.V. Schofield
Producer: John Holmes
Director: Julian McSwiney
Executive Producer: Reg Watson
Ad blocker interference detected!
Wikia is a free-to-use site that makes money from advertising. We have a modified experience for viewers using ad blockers

Wikia is not accessible if you've made further modifications. Remove the custom ad blocker rule(s) and the page will load as expected.